Jackie Campbell, DVM, DACVD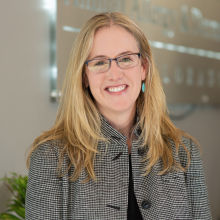 Jackie Campbell, DVM, DACVD
Dr. Jackie Campbell, DVM, DACVD (Diplomate of the American College of Veterinary Dermatology), was born and raised in Colorado Springs, Colorado. She attended Colorado State University where she obtained her Doctor of Veterinary Medicine degree in 2006. Dr. Campbell went on to complete a one-year internship in small animal medicine and surgery with VCA in Phoenix, Arizona in 2007, and a 3-year residency with Dermatology for Animals in 2010. She founded Animal Allergy & Dermatology of Colorado in 2010, and became board certified by the American College of Veterinary Dermatology in 2013. Dr. Campbell thoroughly enjoys her role as an educator and collaborator. She provides continuing education lectures to veterinarians across the country and has spoken at a national level for the American Veterinary Medical Association, and the National Veterinary Community. Dr. Campbell's research was published in a peer-reviewed journal and she has contributed to a clinical textbook on Veterinary Dermatology. She enjoys sharing dermatology insights with colleagues and feels fortunate to be able to work with general practitioners, and as a team improve the quality of life of animals. Dr. Campbell enjoys all areas of veterinary dermatology, but has special interest in allergic skin disease, and ear disease. She is a member of the American Veterinary Medical Association, American College of Veterinary Dermatology, American Academy of Veterinary Dermatology, and Colorado Veterinary Medical Associatio In her home time, she enjoys unplugging with her husband, two kids, and furry family. She enjoys concerts, Bikram yoga, hiking, and travel.

Jennifer Petersen, DVM, DACVD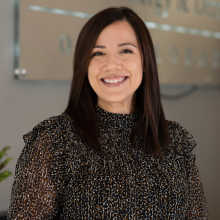 Jennifer Petersen, DVM, DACVD
Jennifer Petersen, DVM, DACVD (Diplomate of the American College of Veterinary Dermatology), joined our team at Animal Allergy and Dermatology in November 2020. Dr. Petersen comes with collective experience working in a private practice in Wisconsin and training in a University setting at Iowa State. She received her DVM from University of Illinois at Urbana-Champaign and completed her residency at Iowa State University. In 2018, she achieved Diplomate certification by the American College of Veterinary Dermatology. A fun fact to mention is that Dr. Petersen's mentor was a fellow resident in the same program with Dr. Campbell during her residency. As a child, Dr. Petersen's family dog suffered from chronic skin and ear issues, fueling her desire from a very young age to help pets with similar problems. Today, she remains passionate about her work in veterinary dermatology and allergies, holding special interests in chronic ear conditions, allergic skin disease, and Co2 laser. Dr. Petersen is a Chicago, IL native, and has spent time living in other major cities during her veterinary specialty training adventures, including Pittsburg, New York, and Milwaukee. She's happy to plant roots in beautiful Colorado Springs with her husband, two kids, and labrador retriever (who also has allergies). When she's not working as a dermatology and allergy superhero, Dr. Petersen loves to explore the mountains, travel, read, watch baseball, and spend time with her family.
Anastasia Lenig, Practice Manager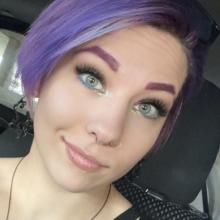 Anastasia Lenig, Practice Manager
Anastasia was born and raised in Iowa. She developed an affection for animals at a very young age, growing up around various agricultural animal life, as well as household companions. After moving to Colorado, she pursued her dream career working with animals and has since garnered over a decade of experience in both general practice and emergency medicine. She joined AADC in March 2023, continuing to cultivate her passion for helping all animals, as well as her devotion to team development, mental health coaching, and client education. Outside of work, she loves to travel, attend concerts and festivals, play video games, and eat a variety of local and unique foods. Anastasia shares her life with Zek, an instructor of sociology at UCCS.
Beth, Reception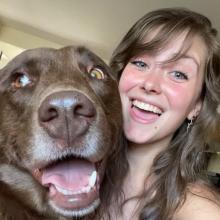 Beth, Reception
Beth was born and raised in Colorado. Beth didn't grow up with pets. However, she grew up frequenting the Cheyenne Mountain Zoo. Watching their efforts to help animals and improve the world inspired her. Beth wanted to be a Veterinarian but thought herself unable to ever join the industry due to her lifelong allergies. As she grew, so did her love for animals. Upon realizing that dreams do come true, and allergies can be controlled, Beth joined the Animal Allergy and Dermatology team in 2023. Beth aspires to make the world a brighter place by loving and lending help to those she meets, furry friends or humans. Her life is all smiles with her three sweet boys, Forrest (husband), Boba (chocolate lab), and Jaime (kitty cat.)
Dominique, Reception/Assistant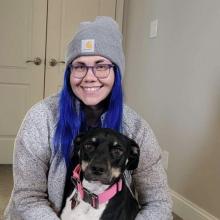 Dominique, Reception/Assistant
Dominique was born and raised in beautiful Colorado. She joined our team in fall of 2021 as a receptionist and quickly began growing her skillset as an assistant. Growing up in a home full of animals, Dominique has always been passionate about rescue pets. After working with a local rescue for several years, she realized that she wanted to work with animals for a living. She had become familiar with seeing pets that were dealing with mange, ringworm, and other skin problems, and was excited when the opportunity became available to become a part of our dermatology clinic. It makes Dominique's heart happy to watch pets overcome their skin issues and become happy, healthy, well-managed pets. When not working, she can be found paddle boarding, attending concerts, adventuring with family, or adoring her 3 rescue pups, Jameson, Lulu, and Bowser.
Emma, Vet Tech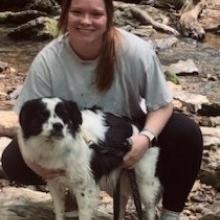 Emma, Vet Tech
Originally from Tennessee, Emma joined our team in 2022 as a Veterinary Technician. Emma's love for animal stated at a young age, having grown up with dogs, cats, horses, and goats! She started her career in veterinary medicine three years before moving to Colorado. Emma's favorite thing about working in veterinary medicine is that she can be an advocate for animals. It is what keeps her excited to come to work every day – no matter how difficult the days can get! Outside of work Emma has a passion for fitness, horseback riding, and getting outdoors. Her adventure partner is her one-eyed Border collie mix, Puff, who is always up for another trip through the mountains or just a walk around the block.

Erica, Vet Tech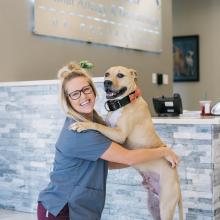 Erica, Vet Tech
Erica brings a unique background of experience to our team at AADC. Originally from Wisconsin, her work with animals began at a young age working on her family's Whitetail deer farm. Always dreaming of working with oceanic species, Erica graduated from Hawaii Pacific University with her Bachelor's in Marine Biology in 2009. Her veterinary career began while working at a small marine mammal center in northern California. Erica was able to work her way up from kennel attendant to veterinary technician in just a few short years. Her combination of passion and hard work have led her many places and ultimately, she relocated to Colorado to be close to her family in 2017. Erica enjoys spending time with her niece, has a strong passion for fitness, and is an advocate for bully breed dogs. She of course has her own hunk of a Pit Bull named Mokey along with his Netherland Dwarf rabbit sister Poppy; the only thing he loves more than his momma is that ball of fur!

Kait, CVT (Certified Veterinary Technician)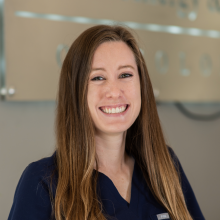 Kait, CVT (Certified Veterinary Technician)
Kait joined our team November 2018. Originally from California, Kait moved to Colorado with her family when she was young. She has had a passion for animals since she was young and always knew veterinary medicine was her calling. Kait attended Colby Community College received a degree in Veterinary Technology in 2019. She worked for a small general practice before joining AADC. Since working here, she has found Dermatology to be an engaging specialty. Kait enjoys educating our clients to ensure their pets have the best quality of life. Outside of work, Kait enjoys arts and crafts. She recently opened an Etsy shop inspired by her Puggle, Hank. When she is not creating, she enjoys cuddling up with her two dogs, Hank and Sophia. The two dogs alongside Henry the cat keep her company while she is binging Netflix.
Kayla, CVT (Certified Veterinary Technician)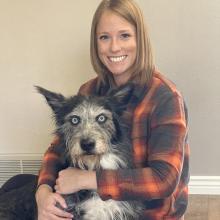 Kayla, CVT (Certified Veterinary Technician)
Kayla was welcomed to our AADC team in August, 2022. She grew up in a small rural town outside of Pittsburgh, PA, where she was surrounded by dogs, cats, birds, fish, turtles, guinea pigs, hamsters, rats, ferrets, rabbits, etc. Animals have been her biggest passion for as long as she can remember. She went to school in PA and graduated from the Vet Tech Institute in 2013 and was immediately hired after completing her externship at a fast-paced clinic where she worked with both general practice and emergency cases. She eventually moved to Colorado in pursuit of growth and a new adventure, spending five years growing her incredible skills in general practice. When she decided to further her knowledge of specialty medicine, she joined us here at AADC! Kayla 100% believes she was put on this earth to care for animals and that nothing compares to the feeling of helping a pet in a need and knowing she made a positive impact in a patient's life. Kayla's happy place is nature, and she loves hiking, adventures, and exploring new places with her friends and boyfriend. She's also an avid Taylor Swift fan. When Kayla's not outside, she's likely curled up with a good book and her 5 fur babies, which include four amazing felines and her husky/terrier mix, Parker.
Kyla, Reception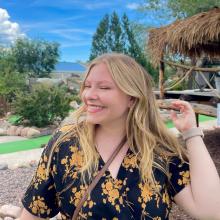 Kyla, Reception
Kyla grew up in New Mexico before moving to Colorado. Her love of animals began as a child with family pets. She worked as a pet sitter for a few years where she realized her passion for veterinary medicine. After some time in emergency veterinary medicine, Kyla found herself drawn to AADC. In her free time, Kyla enjoys hiking, swimming, and video games when she's not snuggling with her two cats: Lynxi and Bilbo.